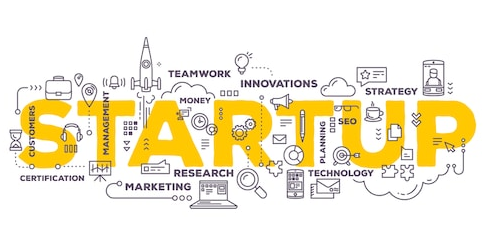 Most MBA graduates obsessively crave for a fat pay cheque and a uber-cool job with a lavish office. Getting such a job is almost akin to a dream job for most management graduates. But life isn't perfect and hence many management grads may have to end up doing a job in a humble startup. In fact, with startup culture now becoming ubiquitous and popular, many MBA & other graduates do end up doing a job in a startup. But most startup job doesn't come with a fat salary nor does it boost a fancy office. Doing a job in a startup is nowhere remotely as glamorous as a making a career in a full-fledge corporate or MNC company. Nonetheless, doing a job in a startup has its own benefits. On the flip side, there are many negatives as well.
In this latest blog post, we'll shed light on the pros and cons of working in a startup. This latest blogpost is especially meant for those MBA graduates who are still confused about whether or not to dabble into the startup industry. This blog post will hopefully bring much needed clarity in their decision-making process.
Benefits of working in a startup
First, we'll look into the positive side, i.e. the bright side of working in a startup.
Multitasking – you may end up learning lot of new skills:
Since most startups operate with meager cash reserves, they have to work with a nimble work force. When any company deploys a nimble workforce, its employees invariably have to resort to multi-tasking. This implies that the employees have the opportunity of learning a lot of new and exciting skills. Something that should bode well for your career in the long run. One must bear in mind that almost every industry is continuously on a lookout for employees with multiple and sharp skill sets. Such employees never run out of demand.
Nurtures your entrepreneurial spirit:
If you nurture the dream of becoming an entrepreneur or start your own business someday then doing a job in a startup will prove to be more than helpful. Doing a job in a startup will give you hands down knowledge about the company's operations and how to scale the business. This exposure and learning curve will feed your passion for entrepreneurship and doing something that is unconventional.  
Your job possibly won't be boring and mundane
In all possibility, your startup job won't be like the usual 9 to 6 corporate job. The perennial uncertainty that looms over a startup paves way for many pivots and experiments. This invariably implies that often employees may have to do many unconventional tasks and sometimes this may veer into crazy stuff. Although it is not necessary that this always entails in a positive experience, there is no denying that a job in a startup will prove to be more exciting than you imagined.
Disadvantages of working in a startup
Now let's turn our attention to the negative side of working in a startup.
Financial Uncertanity
Unlike MNCs and established companies, startups don't have deep cash reserves. As a result, the employees as well as co-founders/founders are constantly perturbed by financial uncertainty. Worse, some startups can even shutdown in a blink of an eye owing to fund crunch and other problems. In fact, it is an open fact that nearly 90% startups fail and eventually shutdown.
Work stress
Sometimes working in a startup can prove to be too much of an overwhelming experience. Owing to their fickle nature, they are in constant mode of experimentation and innovation, which puts unbearable stress on employees. And when stress becomes unbearable, it leads to many physical and mental aliments.
Lack of social security
Startup employees not only have to confront financial uncertainty but even contend with lack of social security. Again owing to funding crunch, most startups don't provide medi-claim, gratuity and other popular social security schemes to their employees. This makes startup employees pretty vulnerable.
Lack of work-life balance
As we've already mentioned that working in a startup is pretty stressful and this can badly impact your work-life balance. This can result in lack of happiness quotient, personal satisfaction and even friction with your loved ones and acquittances.
Conclusion
Whether MBA graduates should work in a startup or not depends on various factors. If they do decide to work in a startup then they should be aware about the possible pitfalls and fallouts. However, if the startup you're planning to join has excellent management and work ethics then working in a startup can prove to be a really fulfilling experience. More importantly, it can lay the foundation for a promising and stable career.