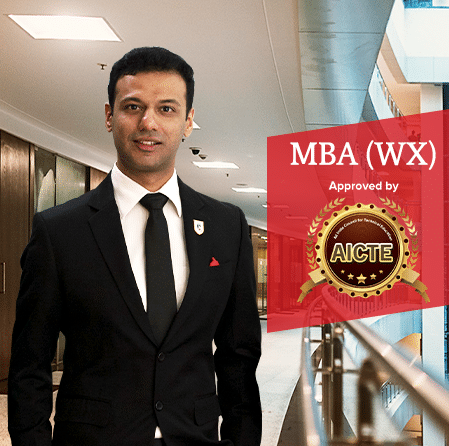 MBA for Working Executives
Batch Starts:
January 2023
Specializations Available in MBA WX
Marketing
Digital Marketing
Leadership & Strategy
Operations & Supply Chain
Applied Finance

What is NMIMS Executive MBA (MBA WX)
NMIMS Executive MBA is a AICTE approved 15 month course that is exclusively designed for working executives. NMIMS has rolled out this course to help working professionals in securing MBA degree without having to quit their job. Besides, this course is perfect for ambitious executives who want to improve their leadership skills and other essential skill sets. Improving these skillsets eventually helps them in seeking higher responsibilities and better career prospects in the corporate world.
Why Choose Narsee Monjee Executive MBA?
Narsee Monjee or NMIMS MBA WX course stands out for wide-range of benefits it provides to students. From world class faculty to robust digital infrastructure, this course offered by Narsee Monjee has established itself as one of the best executive MBA courses in the country. Furthermore, NMIMS' towering reputation in the corporate world invariably paves way for rewarding and lucrative career for all its students.
Program Features of Executive MBA NMIMS

Highlights:
Nmims Executive MBA aims to give a broader overview of business as well as recognize unstructured program and implement innovative solutions for the same.
It offers a lifetime and golden opporunity of learning the concept of business based on the pre-program modules taught in Harvard Business publishing education.
Choose from 4 specialisations tracks-Marketing, Leadership and Strategy, Operations, Supply Chain, and Applied Finance. These specialisations have a dual specialisation option.
Develop an end-to-end view of the enterprise, cross-functional skills and be able to understand the selected functional area in depth.
Ability to think, design and implement strategies that create value and competitive advantage while leveraging the knowledge of various functional domains.
The Capstone Business Simulation Project in Term 5 enables you to synthesise & apply concepts and techniques.
Outcomes:
Effectively understand concepts of core business domains like accounting & finance, economics, operations, information systems, marketing and strategic management.
Ability to integrate knowledge and concepts across functional areas to diagnose and solve complex business problems.
Successfully construct and solve the unique challenges of operating in today's business environment.
Boost your career and play a key role in the strategic decision-making of an organisation.
Apply the latest management theories and practices, learnt through continuous assessments, case studies, projects and simulations.
Successfully expand your personal and professional network with like-minded professionals.
Foundation course from Harvard Business Publishing Education with Certification
Build a solid foundation for the courses offered in business education that aligns with your self- learning objectives.
Earn certificate/s from Harvard Business Publishing Education on successful completion of module/s.
Get one-click access to these modules directly from your student portal with one-year free validity.
The Foundation Module helps build necessary shared business knowledge and terminology before arriving at the online campus. 
Eligibility & Program Fee
Bachelor's Degree (10+2+3) in any discipline from recognised Universities with a minimum of 55% and 3+ years of work experience.
Or
Bachelor's Degree (10+2+3) in any discipline from recognised Universities with a minimum of 55% and Post-Graduation/Professional Degree from recognised Universities with a minimum of 55% and 2+ years of work experience.
Admission Processing Fee : 1,500/-
0% finance available
The University offers special incentives to our armed forces with a 20% concession on the program fee.
The above-mentioned fee structure is subject to change at the discretion of the University. Any payment made via Demand Draft should be made in favour of "SVKM's NMIMS" payable at Mumbai.
Now avail loan facility to pay fees for the Program even without a credit card.
EMI Facility (3, 6, 9, 12 months) available via credit cards of the following banks: HDFC Bank, ICICI Bank, Axis Bank, Citi Bank, Standard Chartered Bank, HSBC Bank, Kotak Mahindra Bank.