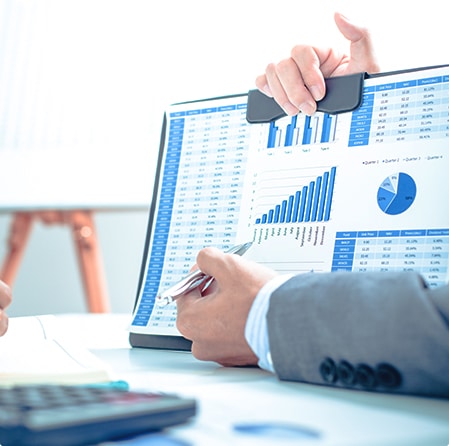 NMIMS Distance MBA Programs
Batch Starts:
January 2023
NMIMS Distance Learning MBA offers 10 specialization areas
Specializations Available
MBA  ( Business Management )
MBA  (Banking and Finance Management)
MBA  (Financial Management)
MBA  (Human Resource Management)
MBA  (Information Technology and Systems Management)
MBA  (International Trade Management)
MBA  (Marketing Management)
MBA  (Operations Management)
MBA  (Retail Management)
MBA  (Supply Chain Management)
Highlights:
NMIMS Distance MBA aims to provide students with an overview of a business framework and the functionality of various business models
Encourages students to employ strategic thinking tactics to improve organisational core competencies
Focuses on modules such as marketing, information technology, economics, business laws, organisational behaviour, etc
Provides practical application of management principles through a case study methodology
Offers the ability to analyse business strategies and models
Offers inroads into understanding how to manage any business at a fundamental level and optimise its value and functioning
Outcomes: 
Understand various business economic frameworks
Master concepts to broaden and deepen the fundamental knowledge and business thinking models
Combine management practices and theories with principles of marketing, economics, accounting, operations management, and finance for solving business problems
Get the proficiency to analyse business data, understand insights and showcase diagnostic problem-solving skills in order to support management decision-making 
Implement and coordinate organizational activities through effective leadership and team skills
Assess the impact of global competitive environments to formulate effective business strategies to manage them. 
Eligibility & Program Fee
Bachelor's Degree (10+2+3) in any discipline from any recognised University or an equivalent degree recognised by Association of Indian Universities (AIU) with minimum 50% marks at Graduation Level.
Option 1 : Full Fee Payment (in INR)
168,000 Pro#
144,000 Prime※
Admission Processing Fee : 1,200/-
Option 2 : Annual payment (in INR)
Admission Processing Fee : 1,200/-
Option 3: Semester-wise payment (in INR)
Admission Processing Fee : 1,200/-
         Students can choose from two lecture delivery modes: Pro & Prime
         # Pro : The Pro mode allows students to access live-interactive lectures as well as view recorded lectures
         ※ Prime: The Prime delivery mode allows students to view recorded lectures
         ※ Prime+ : The Prime+ mode allows students to choose access for live-interactive lectures of their choice.
Note: To get a detailed understanding of the fee structure, contact us on   +91 9987988489. 
An initial amount of Rs. 5,000/- from the program fee will be collected at the time of registration.
The University offers special incentives to our armed forces with a 20% concession on the program fee.
The above-mentioned fee structure is subject to change at the discretion of the University. Any payment made via Demand Draft should be made in favour of "SVKM's NMIMS" payable at Mumbai.
In addition, Students need to pay an examination fee of Rs 600/- per subject.
Now avail loan facility to pay fees for the Program even without a credit card.
EMI Facility (3, 6, 9, 12 months) available via credit cards of the following banks: HDFC Bank, ICICI Bank, Axis Bank, Citi Bank, Standard Chartered Bank, HSBC Bank, SBI, Kotak Mahindra Bank. Students Profile