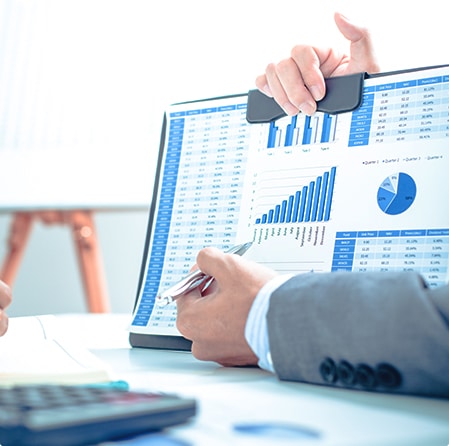 Master of Science in Machine Learning & Machine Learning DevOps
Finance options available
Highlights
The 2-year Master of Science in Artificial Intelligence & Machine Learning DevOps is designed to create Data Science professionals for creating cutting-edge business solutions.
The program encompasses a rigorous curriculum with a total of 750+ learning hours including 220+ teaching hours & 212+ lab hours offered in a flexible  interactive format, that works for busy professionals.
Participants will gain deep technical training in the areas of core artificial intelligence methods, computational science, electives that incorporate computer vision, text mining and natural language processing, big data and robotics and autonomous systems and reinforcement learning.
Includes a product development boot camp to solve real industry problems via building of prototypes.
Students will get on campus career assistance during product development boot camp.
A master dissertation at the end of the program will give hands-on experience on how to use complex research-driven data and apply it to solve business problems.
PG in Data Science (12 months) (Exit Certification)
The PG in Data Science consists of the first 4 terms of the M.Sc program.
On successful completion of the first 4 terms of the M.Sc program, if a candidate wants to exit the program he/she will be awarded a Post Graduate Diploma in Data Science.
On Campus BootCamp
The student gets to attend an On Campus BootCamp for a hands-on immersive learning experience.
BootCamp serves as an individual session post completion of a set of core AI and Elective courses and applying knowledge to solve real industry problems.
The student will build and scale two applications/prototypes from start to finish individually using tools like Python, Docker and Git-hub.
Scholar guided Master Dissertation
The last leg of the program includes a Master Dissertation spread across 20 weeks. 
The dissertation encourages exhaustive study & requires the student to validate research paper results and draw reasonable recommendations from the research using data, under the guidance of an assigned scholar.
It allows the student to gain deep technical professional experience by applying the concepts, tools and techniques learnt during the program, in developing and implementing machine learning & artificial intelligence solutions.
Knowledge Partner: INSOFE
International School of Engineering (INSOFE) – one of Asia's largest Data Science schools represents NGASCE as a knowledge partner to provide deep technical training in the field of artificial intelligence, data science & machine learning.
INSOFE is the world's leading research-driven educational institution in Applied Engineering with world-renowned faculty members holding PhDs from elite international universities and having worked as CXO's in large analytics firms.
It has routinely ranked amongst the top data science schools in the country and has academic affiliations with several high-ranking Indian and International Universities and several prominent institute-industry.
In addition to training over 1000 students a year through its classroom program, INSOFE works with over 100 corporations globally to train CXO's, mid-level managers and engineers.
Learning Outcomes
Understand & solve complex machine learning problems with competencies in data mining, regression analysis, text mining, and predictive analysis.
Gain confidence and mastery in the entire AI algorithm development and deployment cycle (understanding business problem to analytical and mathematical problem, data understanding, data preparation, modelling, evaluation and deployment).
Analyse & solve big data problems using engines like Apache Spark & Hadoop Ecosystem.
Get competencies in algorithm development and visualization tools including R, Python & Tableau and specialised advanced machine learning areas such as NLP, Big Data, Robotics & Reinforcement learning.
Draw strong computational and application architecture knowledge to deploy and scale AI and ML applications.
Obtain hands on experience with industry prototype building and working to apply business and data thinking to complex research problems.
M.Sc. in AI & ML Ops offers industry focused curriculum with 8 academic terms. Each course is offered 1 after the other, and completed in 15-20 days per course.
Electives:
Computer Vision fundamentals and Deep learning applications
Text Mining and NLP, Deep Learning for NLP
Big Data: An overview of Big Data and Hadoop ecosystems
Robotics and Autonomous systems and Reinforcement Learning
Post completion of the course participants can advance their careers in roles as Applied Scientists, Data Scientists and Machine Learning Engineers with data driven companies like Amazon, LinkedIn, Google among many others.
Eligibility & Program Fee
This Program is for Mid-Level experienced professionals
Engineering (B.E. or B Tech degree) or Bachelor's/Master's Degree with Math components with minimum 50% marks.
Candidates may have to go through an Online Interview Process.
Option 1 : Full Fee Payment (in INR)
Full Fees Payment with 0% EMI Option
Processing Fee As Applicable
Option 2: Annual Fee Payment (in INR)
Option 2: Annual Fee Payment (in INR)
Annual Payment with Easy 0% EMI Options.
(No of Years 2.)
Processing Fee As Applicable
An initial amount of Rs. 10,000/- from the program fee will be collected at the time of registration.
The above-mentioned fee structure is subject to change at the discretion of the University. Any payment made via Demand Draft should be made in favour of "SVKM's NMIMS" payable at Mumbai.
Admission Processing Fee : 1,500/-.
Now avail loan facility to pay fees for the Program even without a credit card.
EMI Facility (3, 6, 9, 12 months) available via credit cards of the following banks: HDFC Bank, ICICI Bank, Axis Bank, Citi Bank, Standard Chartered Bank, HSBC Bank, SBI, Kotak Mahindra Bank.
A dedicated team of NGASCE's career advisors shall provide one-on-one support to students in CV development, arranging interviews and other areas of placement support.
Get job opportunities from 500+ recruitment partners from NGASCE & INSOFE.
Get access to the NGASCE Job Portal where you can apply to unlimited job positions.