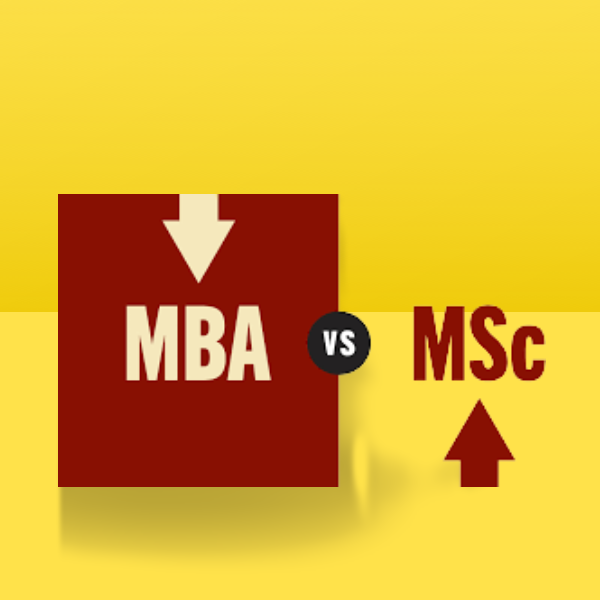 MBA or MSC. Which degree can pave for a more rewarding and fulfilling career? Today this teasing question baffles many students and working professionals alike. The confusion is more palpable in cases when MBA and MSC cover the same specialization areas. For instance, finance and marketing are the two common specialization areas covered by MBA and MSC. This creates confusion among several applicants whether to settle for MBA in finance/marketing or MSC in finance/marketing.
While the attraction of MBA hasn't completely diminished and it continues to remain a top pick for most career-seeking students, the rise of specialized courses has put a spot light on courses like MSC.
Although MSC may nowhere be as popular as MBA, MSC's steady rise has meant that today students have lot more options on their table.
This latest article will seek to dissect the difference between the two. Hopefully this attempt will resolve the conundrum over MBA vs MSC and help the enrolling students in making the right career choices.
Both MBA and MSC are essentially master level degree programmes but their similarity pretty much ends here.
What is taught in MBA?
MBA, which stands for Masters in Business Administration, seeks to impart leadership and management skills in its students. After completion of MBA, the knowledge and skills imparted during the programme eventually (or at least conventionally) help students in efficiently managing the business.
Without going in-depth, it generally provides a holistic view or touches down on all the core elements and fundamentals of the modern business. However, it will be equally wrong to say that MBA does not provide in-depth knowledge since today MBA comes with scores of specialization options. Moreover, MBA courses are generally designed for working professionals and not freshers.
The general thumb rule is that MBA degree is meant for accelerating and expediting the career growth.
Main features of MBA
MBA degree carries a prestige and a strong weightage in the job market.
It imbibes leadership and management skills, which can bode well for long term career growth.
It provides practical as well as theoretical orientation to students.
MBA students get knowledge about latest industry trends right from the industry veterans and also enjoy the privilege of industry visits.
Students earning MBA degree from prestigious universities can even override recession period and secure high-paying job.
Getting admission in MBA isn't easy. Applicants have to crack a tough competitive exams and have to go through a rigorous selection process.
It is almost mandatory to have a prior work experience of at least 2-3 years for enrolling in MBA programme.
Since MBA caters towards working professionals, the enrolling students comparatively have good knowledge base about the various elements of the business operation.
What is MSC and what is taught in MSC?
MSC stands for Master of Science. This master level degree programme was once restricted to traditional areas like Science Mathematics, Statistics Engineering and Medicines. However, over the decades MSC has broadened its scope and today covers wide-range of subjects including Marketing, Finance, Art, Humanities so and so forth.
While MBA takes a more holistic and broad approach, MSC takes a more inclusive and comparatively laser focus approach. Owing to this approach, MSC is referred as a specialized course. It tries to impart knowledge and certain skill-sets that are usually not covered in a MBA course. That said, MSC is designed for freshers and not for experienced working professionals.
Main features of MSC
MSC comparatively provides more deep knowledge about the specific domain.
MSC course is oriented more towards theoretical knowledge and not practical knowledge.
It doesn't specifically try to imbibe any leadership skills.
Although today MSC degree finds more acceptance in the job market and corporate world, it doesn't carry the same prestige as the MBA degree does.
Getting admission in MSC course is relatively easy. Applicants may or may not have to appear for competitive exams and the overall selection process is less rigorous.
Generally, It is not mandatory to have a prior work experience to take admission in MSC program.
Since MSC predominately caters to freshers, the enrolling students don't have much foundational knowledge about the domain.
MBA or MSC: Which is better
If anyone is seeking to revitalize or give an upward trajectory to their career then MBA certainly makes for a better option. However, freshly graduate students who want to build career in specific domain and want to increase their knowledge base for this purpose then MSC makes for a more viable option for them. MSC is also good for those who are looking to add additional qualification before entering the job market.