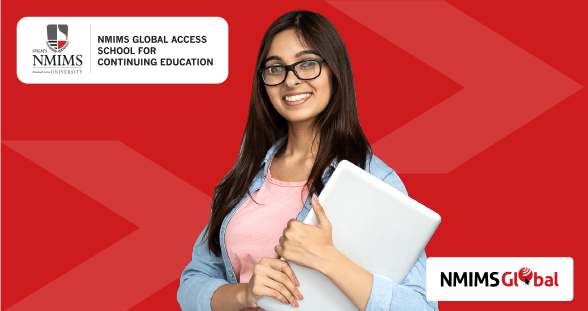 Today India is home to scores of distance universities that are affiliated to AICTE and UGC. Having multitude of distance universities obviously bodes well for India's quest to improve the quality of India's distance education. While the importance of India's distance education cannot be more overstated, there are actually very few universities who have consistently contributed towards this noble goal. NMIMS Global or NGA SCE is one such university that over the years has become synonymous to distance education in India.
The institute's role in spreading and propelling the popularity of distance MBA is especially praiseworthy. Although this university also provides diploma and professional courses, its MBA and management courses have been especially popular with the students. By popularizing the distance MBA courses, NMIMS Global is in a way taking forward the proud legacy of its parent organization and Mumbai based NMIMS Institute, which provides full-time MBA courses. Since several decades the Mumbai based NMIMS institute has been consistently ranking amongst India's top B schools.
In this blog post, we will look into 5 specific reasons that have helped NMIMS Global to outrank its peers and become among the most preferred and sought-after distance universities of this country.
The top 5 reasons that have been mentioned below essentially relates to NMIMS Global's top notch services and superior user experience it offers to its students.
Student Zone Services

:
All NMIMS Global University students including distance MBA students get to avail the exclusive Students Zone services. Students Zone services seeks to leverage the modern online technology to provide seamless and flawless learning experiences to its students…
NMIMS Global Students get to enjoy following services through Student Zone:
Live Lectures
Digital Library
Online academic calendar
Recorded lectures facility for all those who have missed the live lecture
Discussion forums where students can discuss with their peers about syllabus and resolve their resolve their assignment doubts.
Comprehensive Lecture and Study Material:
Since distance courses lack the supervision of traditional classrooms, lectures and study material assumes huge importance. The study material should be comprehensive, accurate and must be inclusive of features that makes assimilation of knowledge as easy as possible for students.
NMIMS Global takes immense pride in the fact that its study materials tick all these critical check boxes. The institute's study materials are deeply insightful and comprehensive that will guide the students through the courses in the form of:
Lecture presentation
E Books
Case-study based learning
Exams and Assignments that promotes analytical thinking
NMIMS Global acknowledges that managers with analytical and cognitive skills are most likely to succeed in the highly competitive corporate landscape. Not to mention that they play massively critical role in company's growth.
A reason why NMIMS Global's assignments and exams are designed to increase analytical and cognitive thinking among its students, helping them to become strategic thinkers and successful leaders.
Dedicated student support:
One of the important yardsticks to judge any university or institute's worthiness is how much it dedicatedly supports or backs up its students. NMIMS Global has always ensure that it passes this litmus test with flying colours. Its selfless devotion in providing dedicated support to student has meant that students are never left in lurch. All their queries regarding exam, assignment etc are resolved on the priority basis.
NMIMS Global provides dedicated student support through:
Post My Query Support
Voice support
Online support
NMIMS Brand Value
With its decades of selfless dedication in improving the quality of India's higher education, NMIMS has created a brand value for itself in India's education industry. A brand name that has become synonymous to trust and ability to provide superior management education.
NMIMS' full time MBA or full-time management courses have played a critical role in creating this brand value. But distance courses provided by its sister organization NMIMS Global have played equally critical role not only in maintaining the brand value but taking it to the next level.
It is this brand value that eventually helps NMIMS Global to supersede other distance universities and maintain its supremacy.