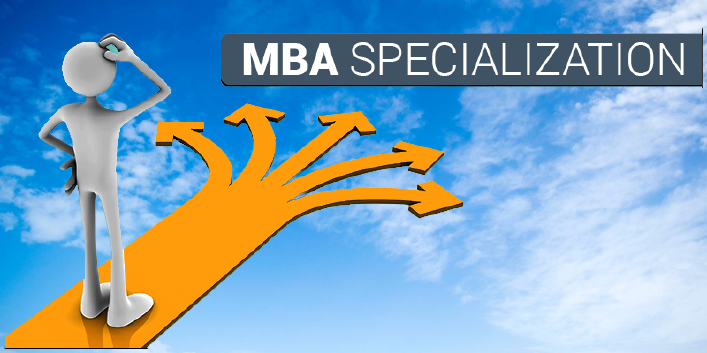 Most students and working professionals enroll for an MBA course with a noble dream that it will prove to be a decisive ladder in achieving a fulfilling and rewarding career. While MBA degree can certainly provide decisive tilt to your career, the specialization area chosen by enrolling students can equally prove to be a decisive factor. It plays a significant role in giving a navigation to the career of MBA students, determining the specific industry or area where eventually they may have to settle their career.  
MBA program generally comes with wide-range of specialization areas. While this is a good thing, more often than not it ends up creating great confusion among students. They are left puzzled as to which specialization will prove to be beneficial for their career. To resolve this conundrum, we're bringing the names of the top 5 MBA specializations that can always be counted upon for fetching a rewarding career even during economic crisis. While this topic has been addressed from the context of next year (i.e. 2022), students can opt for the below mentioned specialization even in the distant future.  
Notably, the below mentioned information about MBA specialization areas are applicable on students seeking to enroll in full-time and distance MBA students.
Marketing Management: It is no secret that most companies are overtly reliant on marketing for propelling their business growth. In fact, marketing is often dubbed as an evergreen career as demand for proficient marketing professionals continues to remain relentless even during the recessionary period. MBA specialization in Marketing Management, therefore, today remains a popular career option. By choosing this specialization, students will get to learn the techniques and methods to promote goods and services and make them standout among the target consumers.
Human resource Management: MBAspecialization in Human Resource Management can augur well for your career for several reasons. But the most important reason being that HR is again one of those evergreen professions. Even while company is downsizing its staff, HR managers and all other executives in HR department manage to hold down to their jobs. Simply because no company can ever afford to overlook management of their human resource and no one can do this job better than the HR professionals. If you still have some doubts then allow us to slay these doubts by quoting the average salary of HR managers. The average annual salary of HR Manager is 9 lac per annum.   
Digital Marketing: In order to cater to huge demand for digital marketing professionals, today MBA program also offers specialization in digital marketing. Although digital marketing is part of the marketing field itself, today it is almost treated as a specialized field. The ubiquitous presence and rapid penetration of internet has meant that today no company can ill-afford to overlook digital marketing. Even experienced career counselors and educational experts count digital marketing among the most reliable and fast growing career.     
Finance Management: Finance is too basic and essential for any company to give amiss and this gave a good enough reason to include finance management in our list. In fact, traditionally finance management has always been among the most popular MBA specializations. Its resounding popularity is justified given that Finance Management students generally draw a good salary. Specialization in Finance Management allow students to get an in-depth knowledge about taxation, investment banking, international finance and insurance management.   
 Retail Management: India's retail industry is one of the most dynamic industry. Its enormous size and the untapped potential has meant that India's retail industry will continue with its unbated growth for a pretty long time. Furthermore, E-commerce's meteoric rise during the last one decade has added more vigor and dynamism to this industry. All said and done, an MBA specialization in Retail Management can easily entail in a lucrative and financially secure career.